Laughs abound at the Ted Bird and Friends Comedy Show in Vankleek Hill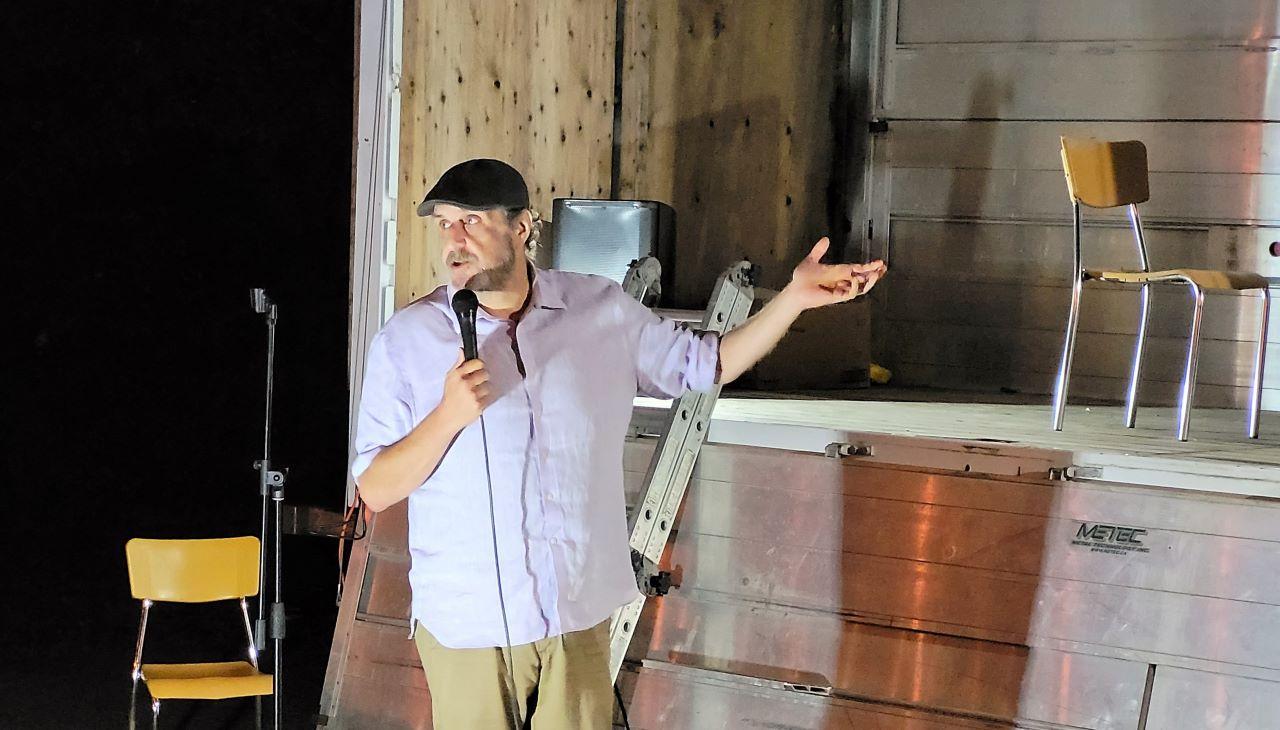 The laughs continued all night long, as the Ted Bird and Friends Comedy Show visited Windsor Tavern in Vankleek Hill on Saturday August 27th.
Headliner Joey Elias had the crowd of around 100 in stitches throughout his set, deviating from his usual material to comment on his impressions of Vankleek Hill and incorporating audience members into his act . Asking several members of the crowd questions, Elias was often surprised by the answers.
"What do you do for a living gentleman," Elias asked John McCaig, owner of McCaig's Honey.
"I'm a beekeeper," McCaig replied.
"Beekeeper??" Elias exclaimed, his eyes widening as he took a step back and considered the time shift of the small town he had inadvertently entered.
"Does Vankleek Hill still have a town crier?" he asked the audience.
Montreal radio personality Ted Bird – himself a veteran of the city's comedy circuit – hosted the show and kicked off the evening with his set. The current joke host of Hudson's Lite 106.7 FM morning show about his radio career and the number of stations he has worked for has had audiences familiar with his broadcasting job laughing.
Naming his various shows and the many co-hosts he's had, the veteran radio host analyzed why he's worked in so many places with so many different people over the years.
"Obviously…I'm the problem," Bird joked.
Bird was followed by two up-and-coming young comedians, Leonard Yelle and Jacy Lafontaine, from Cornwall, who both provided laughs with their energetic sets.
Wassim El Mounzer set the tone for Elias with a hilarious pre-headliner set that had crowd members laughing. Avoiding the portable trailer scene that the first two comics used, El Mounzer joked that his family immigrated to Canada in a container that looked suspiciously like the scene.
"I'm not getting into this thing – the sides are getting closer," El Mounzer commented to the audience's roars of laughter. "It looks like a trap to me."
Audience members clearly enjoyed the night of laughs and many stayed to personally thank Bird, Elias and their fellow comedians for coming to Vankleek Hill.
"It was a wonderful evening," said Don Dubois, who helped organize the comedy night and was the butt of several jokes from host Bird. "I think we really needed a good laugh after the last two years."
The event, which took place outside in the tent and on the outdoor patio at the back of the Windsor Tavern, raised over $1,000 in funds to be donated to breast cancer research.