Sleep diary: Julie Mason, radio show host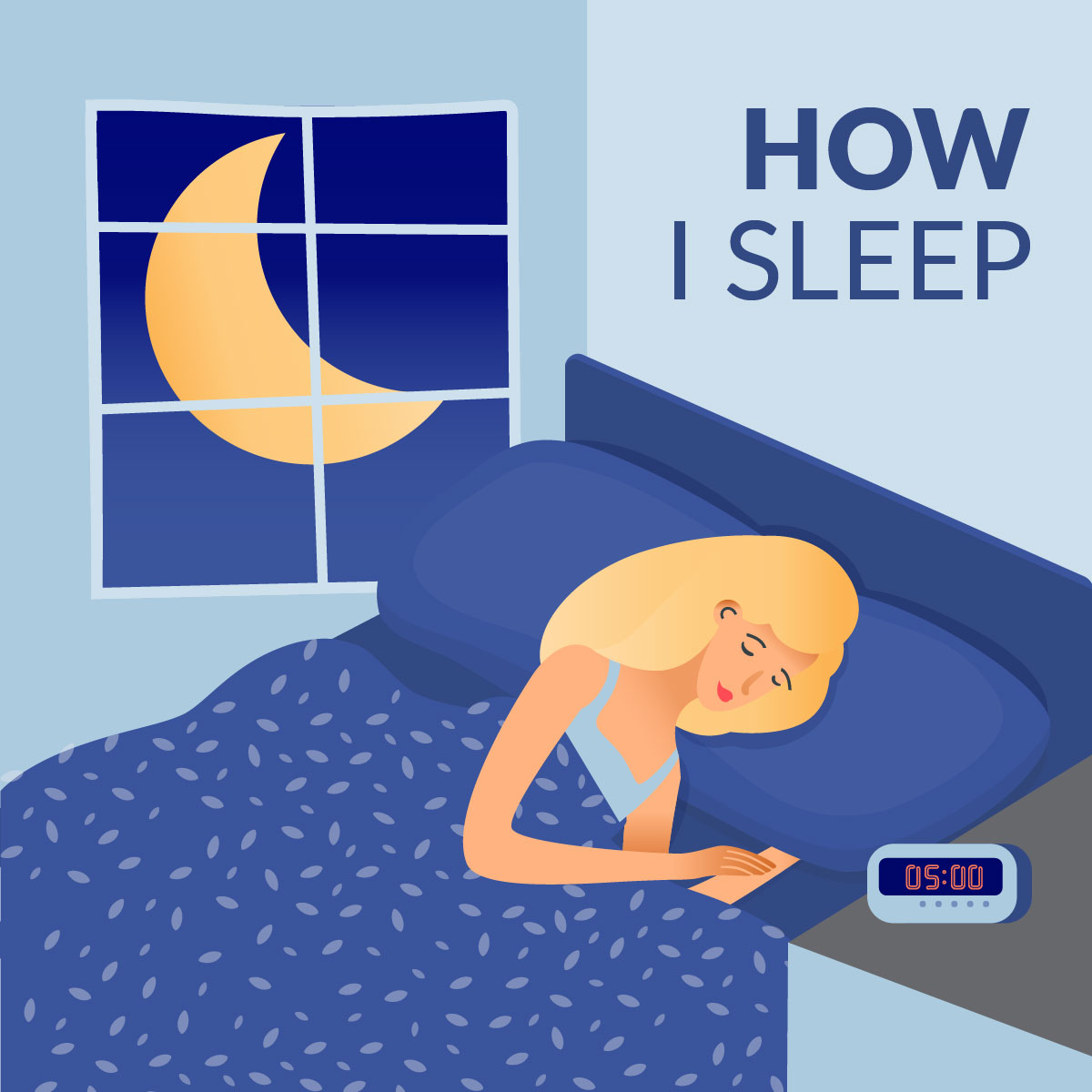 Julie Mason is the host of Julie Mason Mornings on SiriusXM's POTUS channel 124, weekdays from 6-9 a.m. ET.
A legendary and beloved DC reporter, prior to SiriusXM, Mason worked at Houston Chronicle, Washington Examinerand Politico covering Washington politics.
His radio show features an eclectic mix of guests, including the likes of President Nancy Pelosi, Vice President Mike Pence, Senator Ted Cruz, Senator Sherrod Brown, Secretary of State John Kerry, Governor Larry Hogan and Governor Chris Christie, among others.
It also hosts filmmakers, including Alex Gibney and Michael Kirk, artists Henry Rollins, John Doe and Robin Bell, and entertainers, including the cast of Veepas well as authors, actors and journalists.
Mason wrote about a week of his life with his sleep diary, which involves getting up well before the sun shines and going to bed before the sun goes down.
Sunday evening, 7:45 p.m.
Sunday: The worst. On weekdays, I have to get up at 4 a.m. for work. If you knew me, you would know how irrelevant this is. I find it unnatural. My schedule calls for an 8 p.m. bedtime.
I'm a radio show host for SiriusXM and about 18 months ago I went from an afternoon show to bright, jagged mornings. I think my boss was more surprised than me that I said yes. It's a total lifestyle change, and has completely changed my relationship to sleep.
I used to think that nothing really good happened early in the morning. The hours before 9 a.m. are reserved for court appearances, SATs, major surgeries — nothing that anyone really wants.
The unofficial start of the news day in Washington, DC is 10 a.m., and that has always worked out fine for me. It was actually a bit rushed, if I'm being honest.
Going to bed at 8 p.m. on Sunday feels like I'm being punished. It gets a little easier as the week progresses. People think getting up at 4am to work is the hardest part, but it's really the early bedtime that kills me.
I once asked a straight young man from the US Marine Corps, who I knew was not a morning person, how he managed his schedule. He said it takes 21 days to form a habit, and after that it comes naturally.
That's nice, and also true. But just to be sure, I use a sleep hormone and an edible to fall asleep. I tried melatonin, but it made me too groggy in the morning. If I drink during the day, I have to stop at 4 p.m. And yes, there is an alarm on my phone for that.
I need to be really rested to do this job. My show is from 6am to 9am, and I use the previous two hours to gulp down coffee, eat food, and consume loads of news. Luckily, I can still stream from home, but I really miss my show's studio and producers.
The schedule excludes dinners with friends, after-work gatherings, all receptions and events, and anything after dark, for at least half of the year. My nocturnal yawns start at 7 p.m.
But I do it because I like it. The work is fun, challenging and deeply satisfying. I spent 10 years covering the White House for various newspapers, and I've been a reporter for almost 35 years. It's pretty awesome.
Monday, 4 a.m.
Monday: I woke up tired and unusually grumpy. I sadly gnaw on a bagel with cream cheese and butter and swallow two oversized cups of coffee (Café Najjar du Liban – it's flavored with cardamom! I buy it in bulk on Amazon).
I've found that bribing myself with nice things makes this work schedule more bearable, even enjoyable. (Coffee is a good start.)
To improve my general attitude towards having to become a morning person, I bought a new bed frame and a new headboard, all upholstered in forest green velvet. It's solid and luxurious.
One of the advertisers on my show is Helix mattresses, so I got one – incredibly comfortable and supportive (objective opinion) and started spending way more money on sheets. Gone are the Bed, Bath and Beyonce sheet sets – these days it's all airy linen and delicious cotton from Parachute. It's really worth it.
If I have to go to bed like a punished teenager, I should at least relish the feeling of getting into bed. And now I do. I also wash my sheets more often and have a whole range of sprays, oils and things to make them smell like Santa Fe piñons, or lavender.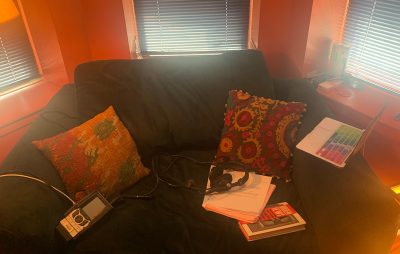 For me, a typical three-hour show includes interviews with about 12 guests. On Monday, I spoke to an expert from Nicaragua about the unrest there, a science writer joined me to talk about the Webb Space Telescope, and a former federal prosecutor came to discuss the fallout from the Mar-a-Lago search warrant. .
My "studio" at home is an oversized comfy chair in a large bay window in my living room. SiriusXM installed very high speed internet so I could stream remotely. I connect with the studio at DC, which connects to guests by phone or zoom. It works pretty well; listeners say they can't tell the difference from the real studio.
Tuesday, 9 a.m.
Tuesday: Did I mention the blackout curtains? My bedroom is shaped like a cool, dark sleeping cave. I painted the room a soothing matte eggplant, and my hideous blackout curtains are layered and dressed up with vintage Indian sarees.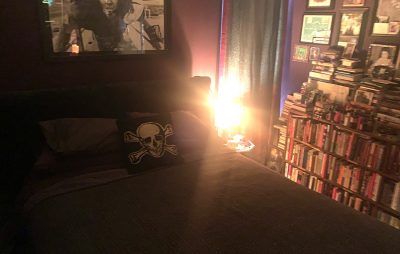 A Russian I dated briefly scorned my sari curtains as "crude old dresses," but I think that shows a lack of imagination.
I only have a small bedside lamp. The room is at all times dark, even solemn. It really contributes to a good sleep and I recommend it. I tried to take a picture of my sleeping lair for you but it looks like an ink stain. I post it anyway.
My bedroom has two windows… but I never care. I got a little superstitious about the light in the bedroom. Darkness and coolness are most conducive to sleep, and since it's still dark when I wake up, there's no natural light to greet me anyway.
I take to heart the remonstrances of the New York Times and elsewhere never keeping a phone next to my bed or even having it charged in the bedroom. I'm sure makes a difference, even though I completely forgot the scientific reasoning.
I also avoid having a TV in the bedroom. I have friends who can't fall asleep without it. I think it contributes to poor sleep, strange dreams, and electronic addiction. I don't need CNN in my ear when it's time to sleep.
Wednesday, 5 a.m.
Wednesday: I'm starting to feel overtaken by sleep. I still feel a little inarticulate on Mondays and Tuesdays, but on Wednesdays I no longer wonder if "retention" is a real word (it is) or if I am making mistakes on air.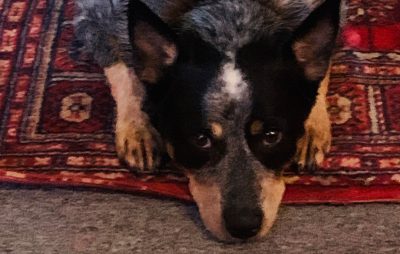 The central air conditioning in my old townhouse doesn't reach the bedroom, so I have two fans on all the time. They make a huge difference in the warmer months and help with sleep quality. It's also good white noise, since I live on a moderately busy street.
My favorite K-pop group, BTS, always has air purifiers everywhere they live and work, so I keep one in my room, too. My Aussie Cattle Dog, Diego, insists on sleeping on the bed and I find his presence soothing.
Thursday, 4 a.m.
Thursday: Before, I was not a "breakfast person". Coffee, probably newsroom coffee, with powdered cream, was the norm. Now? In the new paradigm? I am a breakfast champion.
I started the new schedule with Lebanese coffee, then worked into virtuous and nutritious smoothies with fresh fruit and yogurt. It was good. It gave me good energy to go through two hours of prep and a three hour show.
But now I like to think big. Huevos rancheros are a morning standard or breakfast tacos. I have a deep fondness for breakfast sausages and love hash browns with lots of onion powder. Black beans also make a regular appearance at breakfast.
I cook everything myself and the goal is to combine enough protein and stuff I need to do my job, with the pleasure-seeking ingredients that will actually motivate me to fire up the stove. Hello, sausage.
Friday, 4 a.m.
Friday: My partner sleeps a lot and likes to stay up very, very late. I usually know it's time to get up because he slips into bed. I don't mind having odd, unmatched schedules because it means we both have enough alone time. That works.
I often hope that the partially heard bits of my show he catches as he falls asleep give him some really weird dreams. My show is about politics and current affairs, so of course he should wake up wondering why he dreamed of Chris Christie or Kim Jong-Un. I dream of them all the time.
On weekdays, I watch every sunrise. I wish I could tell you it's glorious and inspiring, but honestly, it's generally boring and even disturbing. Edward Gorey called it "the gray horror of dawn". He wasn't wrong.
All this, and yet I find it really helps to be cheerful in the morning, for my work. Who wants to listen to a grumpy morning host?
Some listeners who migrated from the old afternoon show complained that I looked too happy in the morning, and they preferred sarcasm and the end of the working day, screw that attitude of the last time slot.
Shame! I'm full of breakfast sausages and too stuffed with news to be gloomy. And on Fridays, I'm usually completely caught up in my sleep and it feels like my brain cylinders are firing up.
My weekend starts at 9 o'clock on Friday when I finish the antenna. Trying to stay up late on weekends? Good luck. Sometimes I can get away with it, do something late. But in truth, this job has made me a morning person.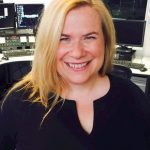 Julia Mason is the host of SiriusXM Julia Mason Mornings, heard nationwide on weekdays from 6 a.m. to 9 a.m. ET.
His daily political talk show on SiriusXM's POTUS channel features an eclectic mix of guests, including the likes of Speaker Nancy Pelosi, Vice President Mike Pence, Senator Ted Cruz, and Governor Chris Christie, among others. . It also welcomes filmmakers, actors and artists.
Prior to joining SiriusXM, Julia was a White House reporter for POLITICO, the Washington Examiner and the Houston Chronicle.
Julia is an elected former board member of the White House Correspondents Association and appears on CNN, FOX News, MSNBC, NPR and more.