Win tickets to Brian Regan's comedy show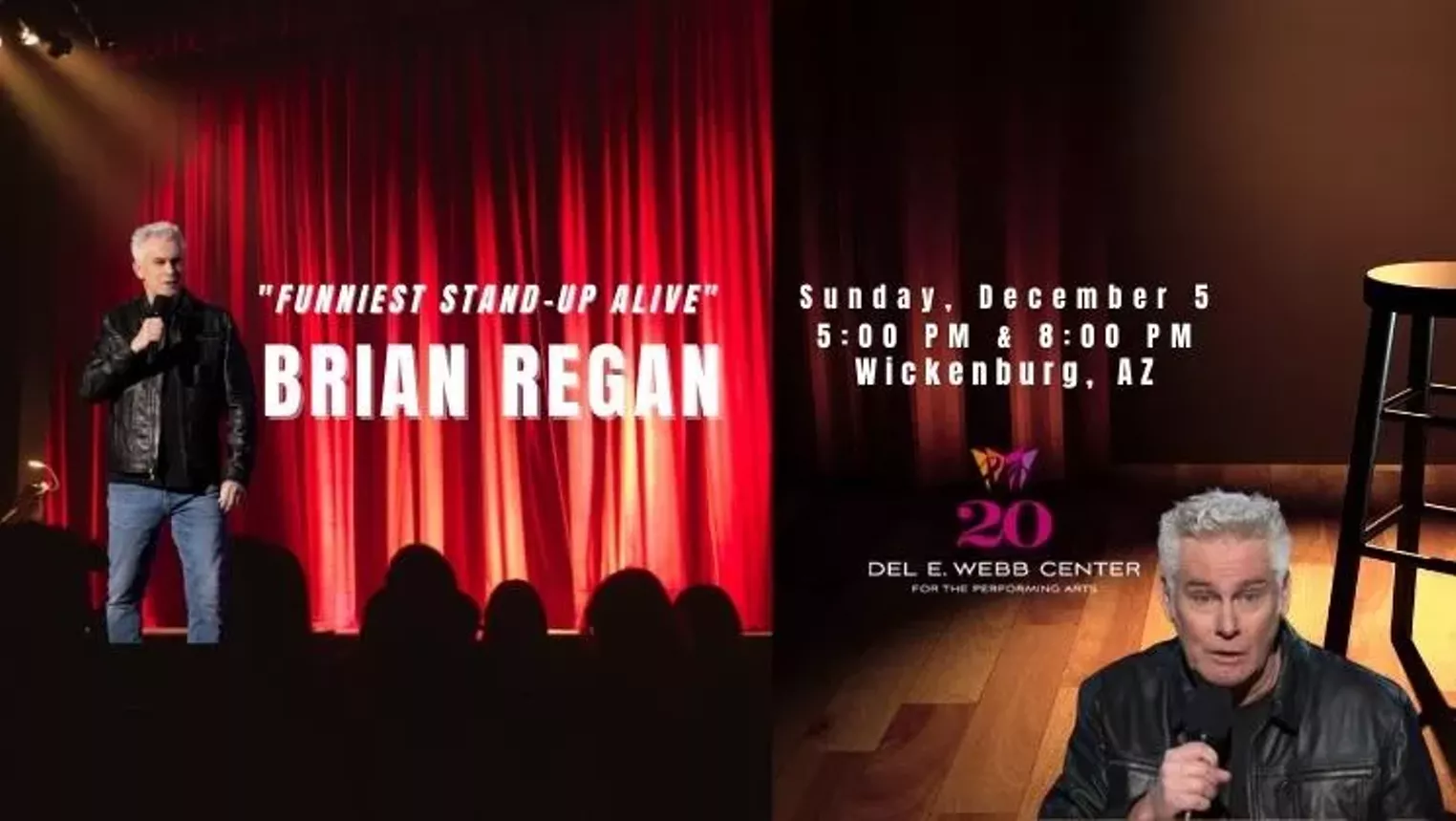 PHOENIX NEW TIMES | Del E. Webb Center for the Performing Arts
Win tickets to Brian Regan's comedy show
OFFICIAL RULES OF THE CONTEST
NO PURCHASE NECESSARY TO ENTER OR WIN IN THIS CONTEST. A PURCHASE WILL NOT INCREASE YOUR CHANCES OF WINNING.
1. ELIGIBILITY: This contest is open only to legal residents of the contiguous United States and the District of Columbia, 18 years of age or older at the time of entry. You don't have to be there to win. Employees (and their immediate families or living in the same household) of PHOENIX NEW TIMES
2. and ("Sponsor (s)") and their affiliates, subsidiaries, divisions, parent and related companies, suppliers, printers and advertising, promotion and judging agencies are not eligible to enter or win.
3. HOW TO ENTER: Contest begins at 12:01 AM EDT on 11/22/2021 and ends at 11:59 PM EDT on 11/30/2021. You may enter this Contest through the in-store, online or by mail entry methods described below. Regardless of the method of entry, you can only enter once. All entries must be received no later than 11:59 p.m. EDT on the last day of the contest i.e. 11/30/2021, whether submitted online, dropped off at a participating facility, or sent by the post office. Proof of posting entry by post is not considered proof of delivery or receipt. No photocopied or mechanically reproduced entries will be accepted. Illegible, incomplete and duplicate entries will be disqualified. Registrations from PO boxes will not be accepted. All entries become the property of the Sponsor (s) and will not be returned.
a. STORE ENTRY METHOD: From 11/22/2021, you can enter the contest by completing an official entry form (including your name, age, address, city, state, zip code, phone number and E-mail adress [if applicable]), available, while supplies last at Phoenix New Times, located at 1201 E Jefferson St, Phoenix, AZ 85034 and drop off in the raffle entry box. You can also send the completed official entry form to: "Win Tickets to Brian Regan's Comedy Show", c / o Marketing Department, Phoenix New Times.
b. ONLINE ENTRY METHOD: As of 11/22/2021, you can enter the Contest via the Internet by logging into www.phoenixnewtimes.com and following the entry instructions. You may be required to register or otherwise provide some or all of the following information: your name, address, city, state, zip code, phone number, age, email address, and the metropolitan service area for which you are entering. . The online participant must be the registered subscriber of the email account through which the registration is made. In the event of a dispute regarding entries submitted by multiple users with the same email account, the authorized subscriber of the email account (as specified by the Internet service provider) used to enter the contest at the time of entry will be considered. like the participant. Entries made by any individual or entity other than the named entrant and / or from any other website, including (but not limited to) notification of trade contest subscription and / or entry on of service sites are zero.
vs. MAIL ENTRY METHOD: You may also enter the Contest by hand printing the words "Win tickets to Brian Regan's Comedy Show", your name, age, address, city, state, zip code, number phone number and email address. mailing address (if applicable) on a 3 "x 5" card and send it in an envelope to: "Win Tickets to Brian Regan's Comedy Show", c / o Marketing Department, Phoenix New Times .
4. PRIZES AND APPROXIMATE RETAIL VALUE: One (1) prize will be awarded. The Prize consists of TWO (2) pairs of tickets only. The approximate total retail value of the Prize is $ 120. The total value of all prizes awarded is $ 120. All federal, state and local tax obligations are the sole responsibility of the winner. No transfer, substitution or cash equivalent for the prize is permitted except by Sponsor (s) in its sole discretion. The winner may be required to complete and return an IRS W-9 form (i.e. a request for tax identification number and certification).
5. PRIZE DRAW: A total of ONE (1) Prize winner (s) will be selected in a random draw from all eligible entries on or around 11/30/2021 by judges selected by the Sponsor (s), whose decisions are final and binding on all matters relating to this contest. The prize is guaranteed to be awarded. Only one Winner per household is allowed. The Winner will be notified by phone, email or mail before 11/30/2021.
6. PRIZE CONDITIONS: No substitution for a prize will be permitted. If necessary due to the unavailability of the prize, a prize of equal or greater value will be awarded at the discretion of the Sponsor (s). The prize is not transferable, assignable or convertible into cash. The winner will be required to sign and return an Affidavit of Eligibility and Publicity / Liability Release within fifteen (15) days of issuance. Failure to return all required documents within this time frame may result in the disqualification of the winner and the selection of an alternate winner. If a Prize Notification is returned to Sponsor (s) as undeliverable or if an entrant is found ineligible or refuses to accept the Prize for any reason, an alternate winner will be selected. By entering this contest and / or accepting the prize, winner and entrant hereby consent (except where prohibited by law) to the reasonable use by Sponsor (s) of the photograph, voice, likeness and / or image, hometown of winners and participants address, content of the entry form and name and age of winners and participants without any other compensation for any future promotional activity related to this contest.
7. ODDS OF WINNING: The odds of winning a prize depend on the total number of eligible entries received for the Contest and are equal regardless of the method of entry.
8. CONDUCT OF THE ENTRY: By entering the contest, the participant confirms that he has read and agrees to abide by the official contest rules and the decisions of the judges. The Sponsor (s) reserve the right to disqualify any entrant who acts in violation of the Official Rules or who tampers with the entry process or the operation of the Contest or website. The Contest is governed by the laws of the United States and, by entering, all winners and entrants hereby submit to the jurisdiction and place of the federal, state and local courts located in [Phoenix, Arizona]. ANY ATTEMPT BY AN ENTRANT OR ANY OTHER INDIVIDUAL TO DELIBERATELY DAMAGE A WEBSITE LINKED TO A SPONSOR (S) OR THE CONTEST OR HARM THE LEGITIMATE OPERATION OF THE CONTEST MAY BE IN VIOLATION OF PENAL AND CIVIL LAWS, AND IF THE ( S) SPONSOR (S) RESERVES THE RIGHT TO CLAIM DAMAGES FROM THIS PARTICIPANT TO THE FULLEST EXTENT PERMITTED BY LAW.
9. LIMITATIONS OF LIABILITY: The Sponsor (s) and each of their respective affiliates, subsidiaries, parent companies and their respective officers, directors, shareholders, employees and agents are not responsible for incorrect or inaccurate input information, theft, tampering, destruction, unauthorized access or alteration of entries; printing or other errors; and any late, lost, delayed, incomplete, misdirected, stolen, mutilated, illegible, postage due or any combination of these entries or mail. The Sponsor (s) reserve the right to modify, suspend or terminate the Contest should this become necessary due to circumstances beyond the control of the Sponsor (s). In the event of early termination of the Contest, a winner will be selected from all eligible entries received at the time of termination.
10. DISCLAIMER: By entering, the winner and the entrants agree to release, discharge, indemnify and hold harmless the Sponsor (s) and each of their respective affiliates, subsidiaries, parent companies and their officers, directors, employees, representatives and agents of and against any claim made by the winner, participants or any other third party in any way related to the operation of this contest, as well as any other claim, damage or liability due to personal injury, damage or loss (whether alleged, threatened or actual) to any person (including death) or to any property of any kind resulting in whole or in part, directly or indirectly, from the acceptance, possession, misuse or use of any prize or participation in any activity related to the contest or participation in this contest.
11. LIST OF WINNERS: To obtain an official list of winners (available after 11/30/2021) or a copy of these Official Rules, send a self-addressed, postage-paid envelope to: "Win ​​Tickets for the Comedy Show by Brian Regan "- WINNERS – or – OFFICIAL RULES (please specify), c / o Marketing Department, Phoenix New Times. All requests must be received by 11/30/2021. Official Rules also available at www.phoenixnewtimes.com
12. PARTICIPANT'S PERSONAL INFORMATION: Information collected from entrants is subject to the privacy policy of the sponsor (s), which can be viewed at www.phoenixnewtimes.com.
13. SPONSOR (S): Phoenix New Times, Del E. Webb Center for the Performing Arts
THIS CONTEST IS VOID WHERE PROHIBITED OR RESTRICTED BY LAW.
2021 Phoenix New Times All rights reserved.